Get A Free
Quote
If you would like a free quote, or to simply just ask a question then one of our expert team will be only happy to help. You can either phone us on 01384 255 881, or simply use our contact form below by choosing a product and asking a question. Thanks!
Our
Promise
All our staff at Stepglass understand that whatever project you do there are always headaches along the way. We try our utmost to deliver very high quality products and service to all of our customers. We always work alongside our customers to make sure they get there products exactly when promised and give them support from the start to the end. By doing this we hope all our customers get the service and high quality products you would expect from a company like ours.
Delvery
Information
We aim to deliver around our customers projects. In most cases with our products we do stock most rooflights and these are available to dispatch 4-5 days. Most bespoke made to order rooflights can be manufactured and delivered in 14 days dependant on our busy periods. All our customers are updated about delivery times and are always made aware of when there orders will be arriving and at what stage of the day. (Please note most walk on glass products are around 3 week leadtime).
Roof
Lantern
Our Roof Lanterns are the must have roof lantern solution for any building project or existing roof. They are becoming more and more popular transforming the standard flat roof with a mass of natural light making the room below more aesthetically pleasing. Our roof lanterns are made from an aluminum structure and the roofs have been weather tested and offer exceptional results.
We only use the latest and best technology when it comes to manufacturing our roof lanterns and use some of the leading roof system companies in the UK, in particular K2 and GLOBAL so be assured that when you buy our roof lanterns they will be of the highest quality. We also offer over the phone measuring service which makes DIY installs simple. Along with our roof lanterns we offer a complete replacement roof for any of your tired looking conservatorys that need a revamp,or new build conservatory roof quotes.
All roof lantern and conservatory systems purchases come with full installation guides and are assembled and dismantled prior to delivery. We also offer a full assembly service to make the installation easier and simpler. If you require bespoke made to order roof lanterns and conservatory roofs then we at windoorcareuk are the ideal choice for these solutions for you.
See below for more information on the quality of our roof lanterns and a quick and easy way of getting a quote without the hassle of filling in massive forms, we hope that you find what your looking for, if not please use our form below to send any queries about roof lanterns you may have and we will be happy to help.
Overview
Aluminum structured roofs with UPVC cappings, wide range of foiled colours and any ral colour available. We can also supply CAD drawings of roofs with all our roof system orders. Seamless guttering is integrated into our conservatory roof systems. If you are unsure about DIY installation and may need an helping hand, we offer a fully detailed installation guides and even will offer technical advice and support over the phone if you require aid with your DIY installation.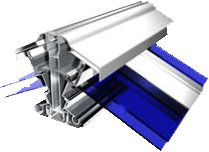 We also can offer roof vents at an additional cost and replacement and new build conservatory roofs are available. We also have a nationwide delivery and our turn around is about 10-14 days in most instances.
We also offer a wide range of glazing options available such as PolyCarb, Pilkington Activ Blue Self Cleaning Glass, Planitherm Total+ Energy Efficient Glass and Solar control, more information can be seen below.
Pilkington Activ Blue with Self Cleaning Glass
Pilkington Activ Blue is a stunning blue glass that provided amazing self cleaning properties and solar control performance that makes your internal environment staying cooler. The blue tint looks appealing and gives optimum performance and is the ultimate choice as a roof glazing option.
Saint Gobain Glass PLANITHERM TOTAL+
Saint Gobain Glass PLANITHERM TOTAL+ Energy Efficient Glass is one of the leading glazing options that improves the energy rating of your home with its improved thermal insulation helping you save on the energy bills by also promoting passive heat gain getting the suns heat through the glass and keeping it locked in your home, keeping it warmer..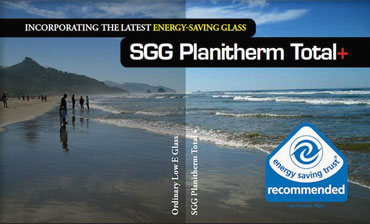 Need Advice?
If you would like to get a quote, or simply to just ask a question then it is really easy. Simply contact us via phone, or the form on the right and one of our expert team will be only happy to help. We also have other rooflight products that you can find on the other pages on our website.
StepGlass, Unit 1 Turner Street, Dudley, West Midlands, DY1 1TX - Phone : 01384 255 881 - Email : contact@stepglass.com