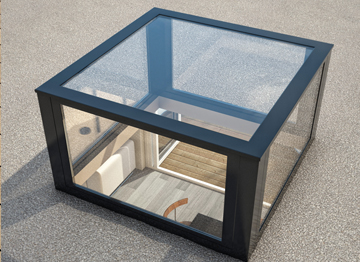 Get A Free
Quote
If you would like a free quote, or to simply just ask a question then one of our expert team will be only happy to help. You can either phone us on 01384 255 881, or simply use our contact form below by choosing a product and asking a question. Thanks!
Our
Promise
All our staff at Stepglass understand that whatever project you do there are always headaches along the way. We try our utmost to deliver very high quality products and service to all of our customers. We always work alongside our customers to make sure they get there products exactly when promised and give them support from the start to the end. By doing this we hope all our customers get the service and high quality products you would expect from a company like ours.
Delvery
Information
We aim to deliver around our customers projects. In most cases with our products we do stock most rooflights and these are available to dispatch 4-5 days. Most bespoke made to order rooflights can be manufactured and delivered in 14 days dependant on our busy periods. All our customers are updated about delivery times and are always made aware of when there orders will be arriving and at what stage of the day. (Please note most walk on glass products are around 3 week leadtime).
LightBox
Lightbox is our new exclusive rooflight design which allows masses of natural light to flood into a room. Using our A rated design profiles and precision engineered manufacturing process we have designed the first contemporary boxed rooflight.
Lightbox transforms any room as it projects the light from 5 sections of glass which creates a sence of natural elevation and space. There are a range of exclusive contemporary colours to choose from so it can blend into any enviroment or conservation area.
Security is also paramount to us to ensure removal of glazed sections is not possible,using our stepglass welded framing system the top glass is bonded into this preventing removal. All other sections are intenally glazed to the building.
Overview
Everything is pre factory assembled making lightbox the most easiest rooflight to install on the market. So if your after the most exclusive rooflight product available in the UK, light up your world with light box.
A wide range of sizes available from 1000 x 1000mm ,1000 x 1500mm and 1000 x 2000mm. A range of outside frame colours are also available with white inside as standard..
LightBox includes Energy Effiecny Low E Toughed Glass with a 1.2u value that not only looks great but also will help save on energy bills. We also give the option on upgrading the glass from self cleaning to Saint Saint Gobain Planitherm.
If you would like to get a quote, or simply to just ask a question then it is really easy. Simply contact us via phone, or the form on the right and one of our expert team will be only happy to help. We also have other rooflight products that you can find on the other pages on our website.
LightBox Features
Exclusive designed framing system, pre factory glazed for ease of installation.
Range of 6 contemporary colours available(White inside as standard)
Energy Efficient Low E toughned double glazing with a 1.2 u value manufactured to BSEN12150
Many other glazing options available self cleaning, saint gobain planitherm.
Uv protected border for longevity of the product 10 years manufacturers warranty.
Standard size ranges of 1000 x 1000,1000 x 1500 and 1000 x 2000
Can be made to order in a range of sizes to create a space that suits you.
10-14 days delivery.
UK delivery available prices on request.
LightBox Specification
70mm welded 5 chambered section
Factory glazed top section unit.
Stepglass fusion welded framing system.
6mm toughned clear
12 mm spacer bar
4mm toughned low e glass.
Side sections internal glazed 28mm low e units.
Standard lightbox Unit Guide Weight: 58kg / sq m
Kerb Width Minimum: 70mm
Kerb Height Minimum: 150mm
Minimum Kerb pitch: 3-5°
StepGlass, Unit 1 Turner Street, Dudley, West Midlands, DY1 1TX - Phone : 01384 255 881 - Email : contact@stepglass.com